GRAND CENTRAL - Jazz 'n' Fusion -
Jörg Heuser (guitar) Thomas Bachmann (saxes)
Andreas Mertens (bass) Patrick Leussler (drums)

(Fotos: Holger Kretzschmann, Binger Bühne)

new GRAND CENTRAL CD Deconstruction - live (2019) now available: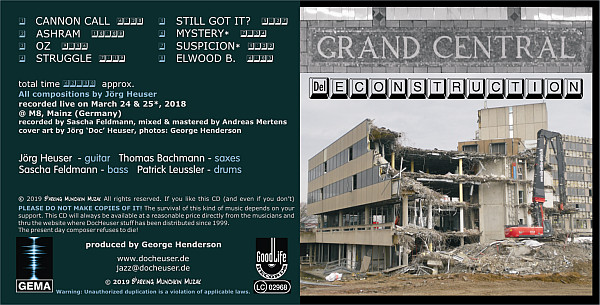 Audio-SAMPLES:
SPECIAL: Alle 4 GRAND CENTRAL CDs für nur 40 Euro (incl. Versand) kaufen:

---
Jazz ohne Scheuklappen und Genregrenzen - coole Boogaloo-Grooves neben PostBop-Jazzlinien und rockigen sowie souligen Sounds. Die Musiker von GRAND CENTRAL kombinieren dies und vieles andere mit selbstverständlicher Leichtigkeit und hoher Musikalität ohne Abgehobenheit dafür mit lockerer Eigenständigkeit. Hingehen. Zuhören. Spass haben!
GRAND CENTRAL has a program that exclusively consists of original compositions and arrangements The music of the quartet combines elements from Modern Jazz, Funk, Soul, Latin and Rock.

GRAND CENTRAL is:
Jörg Heuser (guitar)
Thomas Bachmann (sax)
Andreas Mertens (bass)
Patrick Leussler (drums)

SLIDESHOW Binger Bühne 2019
(Bingen, 12.04.2019)
photos by Holger Kretzschmann